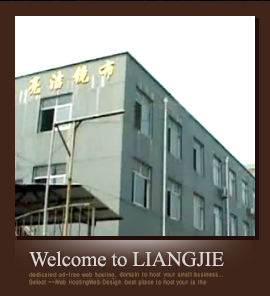 Taizhou Liangjie Micro Fibrous Co.,Ltd. lies in the Glasses Town in China--Duqiao Town of Taizhou City. The sea and land traffic is convenient, it is about 180 km distance from Ningbo Port, near Yongtaiwen Superhighway, harbors, airports. It is the ideal places for investment. Micro-fibre wares produced by our company are suitable for cleaning all types of glass, coating, resin lenses, camera, jewelry, home appliances, precision electronic products, high-grade furniture, car glass, sporting goods, etc. Our products are made of good quality materials, adopt advanced production technology, and well received by users at home and abroad.

Since established, guided by the market, the company has been vigorously promoting technological innovation and management innovation. Through research and development of high-tech glasses cloth, glasses bag, clean cloth and putting on the market,With its first class technology development capability, strong productivity and the ability to deliver timely, quality assurance of quality, good business reputation and client core business philosophy, we have become an important suppliers and strategic partners of World's class enterprises, Its economic strength, the scale of production and technical strength have been constantly enhanced. Outstanding ability in technological innovation, strong production capacity, strong ability in finding and meeting potential clients and realistic demand timely, the above three abilities have become three core competitiveness. However, the basis to support three abilities is that the company has a large number of excellent technology, management and marketing personnel. In manufacturing products, through the introduction of foreign advanced production equipment and testing equipment, vigorously importing and training outstanding production management, quality management personnel and skilled workers, using modern advanced scientific management ideas, methods and "enterprise resource planning" ERP systems and other information technology tools, the company guarantees high-quality and low-cost products be sent to customers, thus in product quality, cost, delivery time leading competitors.

At present, the company is in a crucial period of development.New products are been continuously developing and putting on the market, management is constantly norms, management level is constantly improving, the production scale is constantly expanding, the market share is constantly increasing, the influence of industry and visibility are continuously improving. We have reasons to believe that as long as the strategic plan to promote reform in accordance with established companies, a young, healthy, vibrant, international design, manufacturing enterprises will form in the near future.

The Company adhers to the "professional and honesty, sustainable management and common development" as enterprise management, we will work more for the exploration and development of the market, gradually build good customer service system and provide strong support for the partnership.